Harris Golf Cars
SEPTEMBER 2021 PARTS SPECIAL
Offer good while supplies last or until 9/30/2021!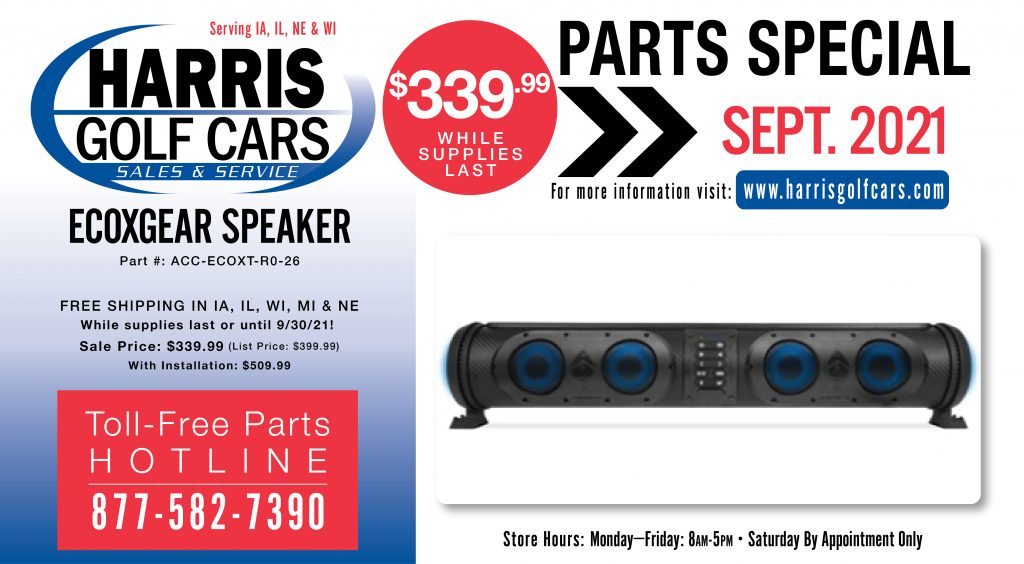 You don't want to miss our PARTS SPECIAL for September:
ECOXGEAR SPEAKER
Free shipping in IA, IL, WI, MI & NE
Speaker only $339.99 until September 30, 2021!
(With installation $509.99)
FEATURES:
• The EcoCast feature allows up to 100 soundbars to be connected together or connected to any ECOXGEAR speaker
• RGB Party Lights: Choose from red/green/white/blue solid
• Sync to music
• Integrated LED light bar
• 3 Color Options: Red, white, or dimmed white
• 500W Total peak power
• 8 total speakers: Dual woofers, 4 mid-range and 2 tweeters
• Two independently sealed cavities for true left and right stereo sound
• IP66 rated with Marine-Grade speakers
• 100% water, dirt and dust proof enclosure
• Features AM/FM and bluetooth with built-in microphone for speakerphone calls
WHEEL SET GALLERY
Click on wheel set below to see larger photo!
Harris Golf Cars has many exciting and versatile products to get you the ride you deserve!
Our parts department is dedicated to the needs of our customers. Our inventory is one of the largest in the United States. Our mechanic staff includes some of the best technicians ever to service all brands of golf cars.
We offer you a variety of parts and accessories for your golf car. We have a huge inventory of Genuine Yamaha Golf Car parts and accessories. We stock a lot of Club Car, and Ez-Go parts and are able to ship worldwide. With a full line of accessories for your golf car, we can provide every possible accessory you would need.