INTRODUCING THE ONE THING YOU NEVER HEARD COMING

Ours is the first gas-powered car in the industry to offer independent rear suspension, for the most comfortable drive around, no matter the terrain. And at an efficient 45 MPG and 76% fewer pollutants, there's no doubt this car is the most sound decision for your course.
GAS, THE QUIET CHOICE FOR A SOUND 
BUSINESS DECISION
 Yamaha exclusive QuieTech technology
 Independent Rear Suspension
 Up to 23% better gas mileage at 45 MPG*
 Yamaha-built engine
 Industry-leading fuel economy
 Fewest emissions and up to 76% less pollutants than competitors*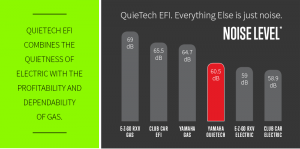 (1) Decibel reading from 25 feet at constant speed on a paved cart path for 2016 fleet models; (2) Alpine Hearing Protection, 2016; (3) "Listen to this" by Richard Wolkomir, 1997; (4) Outdoor Noise and the Metropolitan Environment, M.C. Branch et al., Department of City Planning, City of Los Angeles, 1970; (5) World Health Organization, Data and Statistics, 2015; (6) Hearing Health & Technology Matters, LLC. 2016.* Independent laboratory testing in a fleet environment by Transportation Research Center, Inc. 2015, on model year 2016 cars.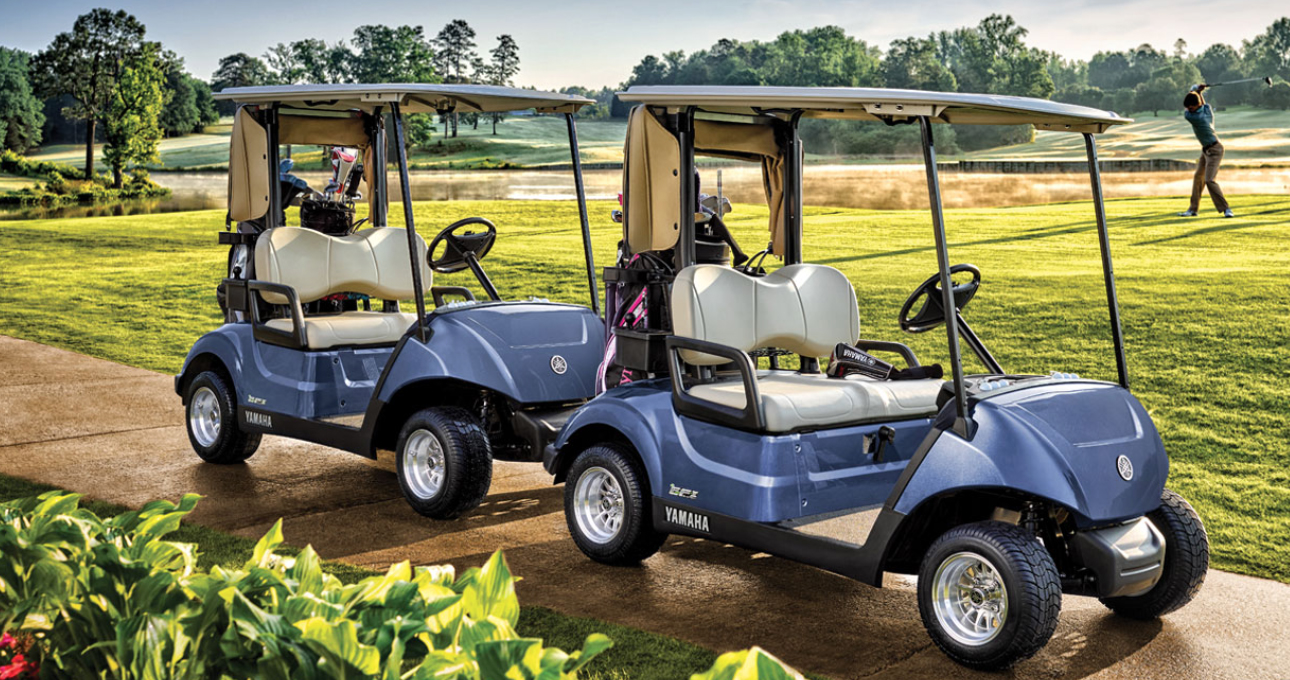 Click here to see the brochure for the Yamaha Drive 2 PTV!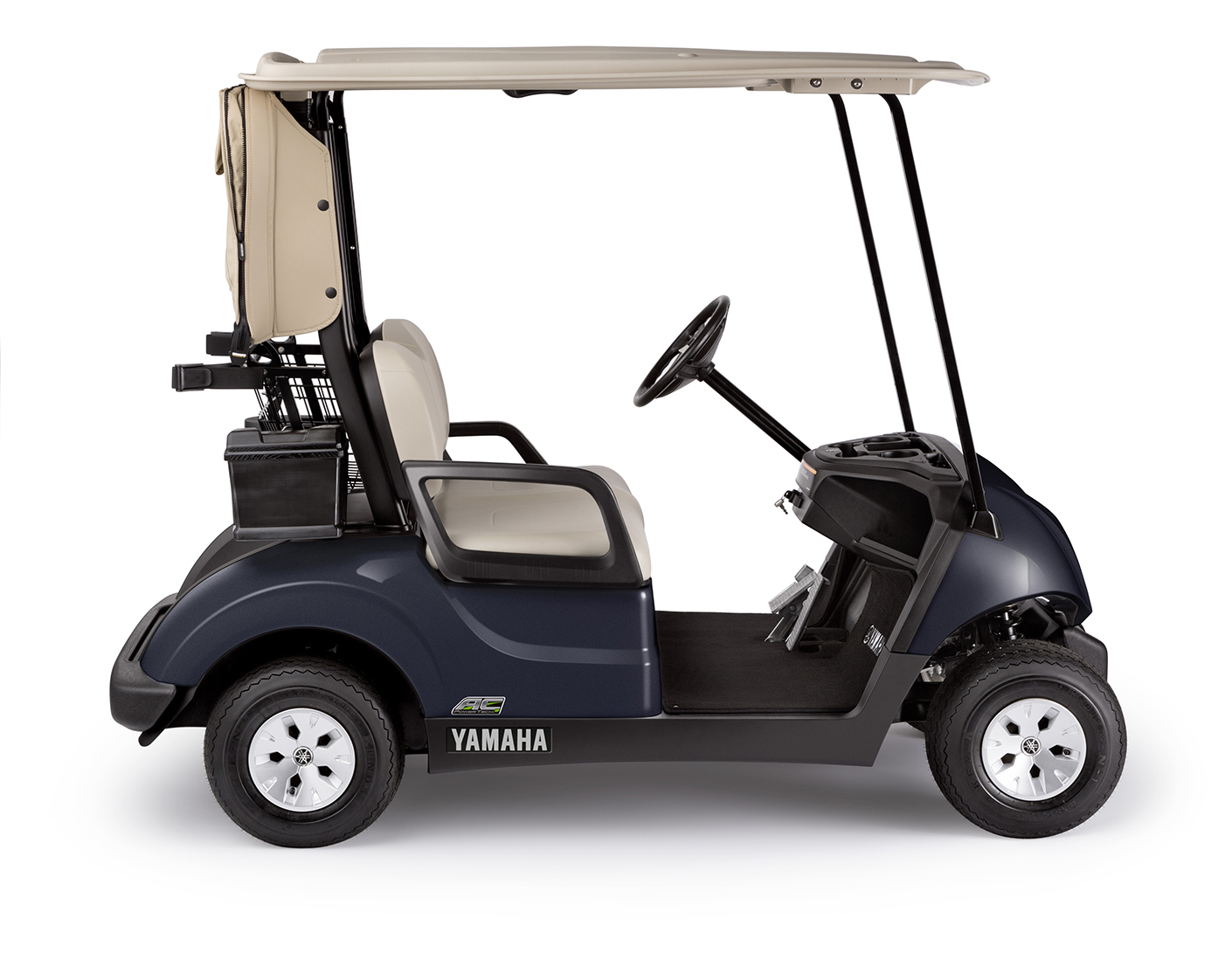 ---
Yamaha Adds GPS Screen Option To YamaTrack Solution
Newnan, Ga. (October 27, 2016) – Yamaha Golf-Car Company has added yet another layer of innovation, function and affordability to its cutting-edge YamaTrack GPS Solution with the addition of a customized GPS screen that integrates a golf car to the course's cloud-based fleet management control center.
The 8″ bracket-mounted YamaTrack GPS screen now gives a course two options for managing its golf car fleet. YamaTrack's base option has a control box built into the golf car frame that wirelessly interfaces with the control center at the course. While players use the YamaTrack app on their mobile devices, the golf shop can monitor pace-of-play, ensure proper fleet rotation and security, even set geofences to control cart traffic. The control box teams with the YamaTrack mobile device app to allow players to gain shot-to-hole yardages while also offering two-way communication with the golf shop. The YamaTrack GPS screen provides golfers with in-car yardage measurement, hole flyovers, pro tips, two-way messaging with the pro shop and many other features.
The screen can be mounted to any Yamaha golf car, and equipping temporary tournament fleet cars with the same GPS system as the main fleet is quick and easy.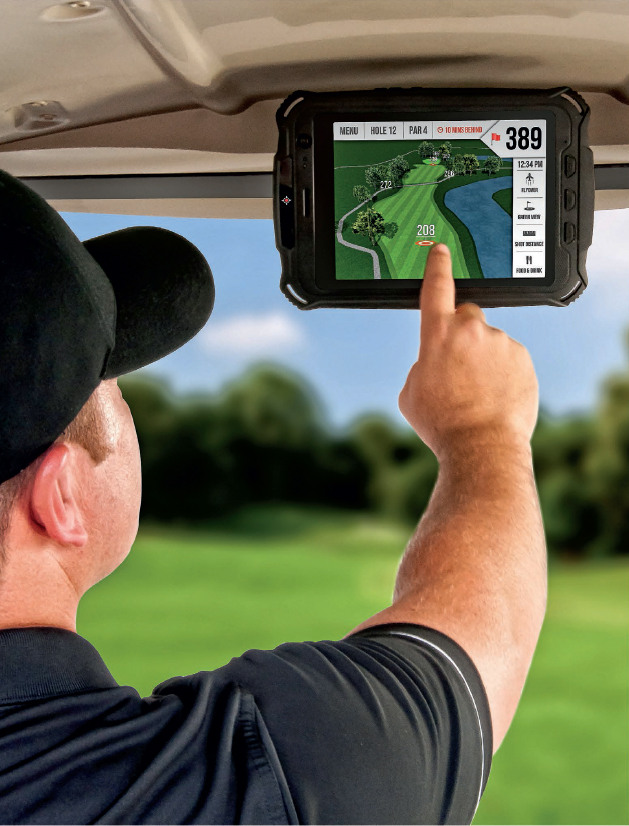 Read more...
Fleet Management and Car Control
With the YamaTrack fleet management system the golf staff can now track the location of every golf car on the course, track pace of play, dispatch a marshal to where play might lag, automatically slow down a golf car approaching steep or winding terrain and when necessary even shut down a car (DC electric golf cars only). The course superintendent can similarly track the location of all utility vehicles and maintenance equipment through their cloud-based system on any internet-connected device.
YamaTrack can even create on-course geofences to establish a virtual perimeter around sensitive environmental areas, rain-soaked turf, green surrounds and the like. With the fleet back in storage, YamaTrack diagnostics can assess and maximize golf car rotation, battery life and amp hour usage. The system's Shutdown and Lockdown features convey an added measure of security, both day and night.
Player Connectivity
Golfers connect with the course through either the course-branded YamaTrack mobile app (available for both Android and iPhone) or through the YamaTrack GPS Screen. This feature allows the golf shop staff and a golfer to interact through both the on-car GPS screen and a mobile device app. In both cases, the golfer benefits by having access to vivid course diagrams, precise golf course yardages and food & beverage ordering from the course.
For the golf shop, the player connectivity features are custom branded to the course and are designed to generate incremental revenue through faster food orders at the turn, as well as receive player feedback after the round if the player chooses to "rate the course".
Since its launch at the PGA Merchandise Show in January, the free YamaTrack Player App has been downloaded to 14,545 mobile devices and used during 75,800 rounds played. Additionally, the app has been activated at 1,257 golf courses across the U.S.
Back-Office Utilities
YamaTrack offers integrated software programs that support a variety of golf course operations, including tee-time reservations, food & beverage management, inventory control and customer profile information.
YamaTrack's internet-based facility management software, course information, yardages and graphics were developed in conjunction with iGolf, a leading provider of technology content and services for the location-based industry.
For more information on YamaTrack contact Yamaha Golf-Car Company at 770-254-4154 or visit online at yamatrack.com.
About Yamaha Golf-Car Company: The Yamaha Golf-Car Company, headquartered in Newnan, Georgia since 1988, manufactures the most highly engineered, highest quality golf cars, utility, and specialty vehicles in the industry. The company was the first to develop Electronic Fuel Injection technology in a golf car, producing the best gas mileage and smallest carbon footprint, the first golf car with fully independent four-wheel suspension producing the smoothest ride in the game, as well as the first gas-powered car that is almost as quiet as an electric.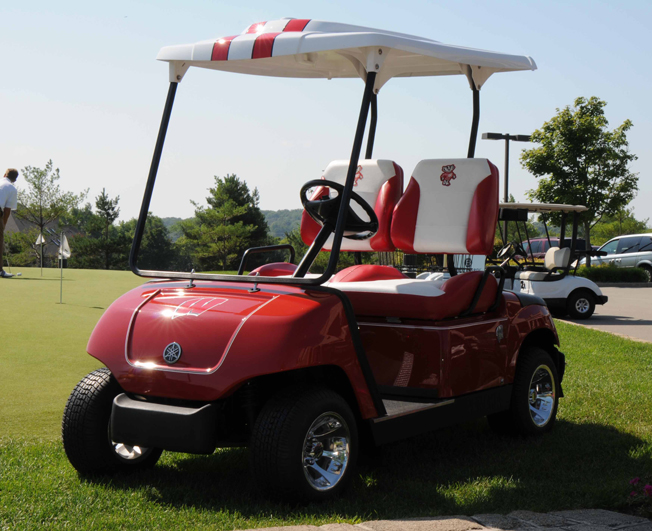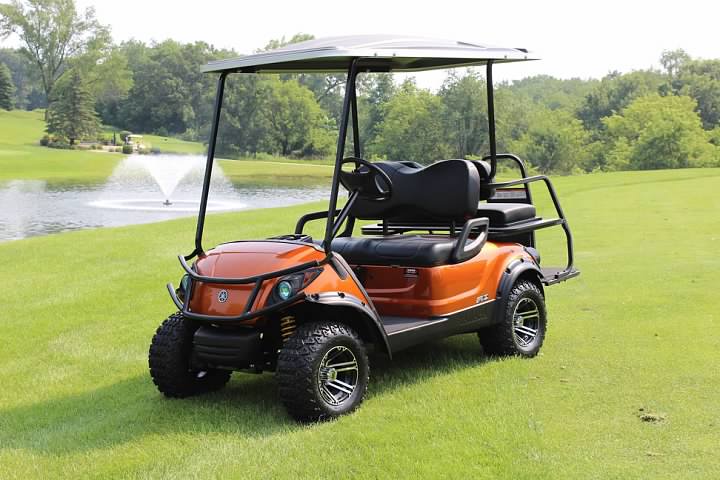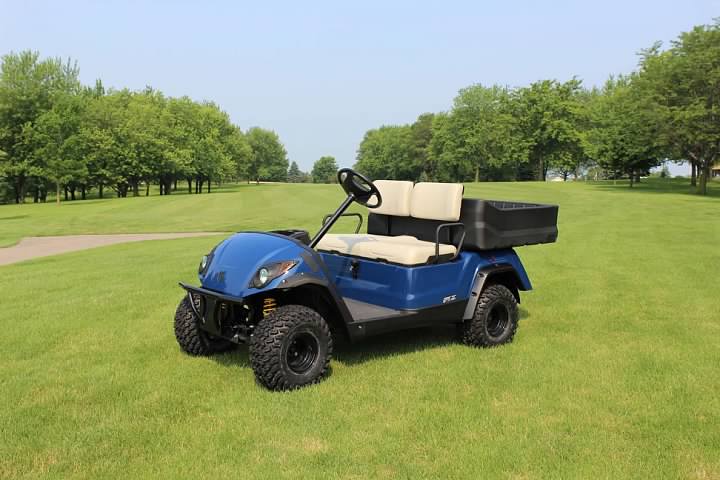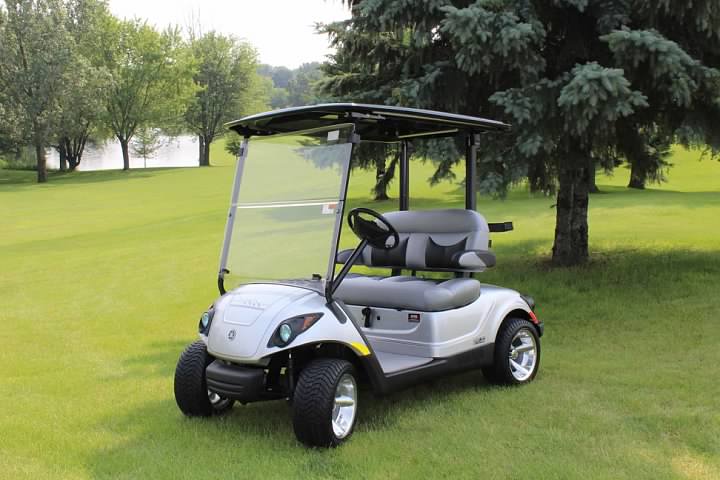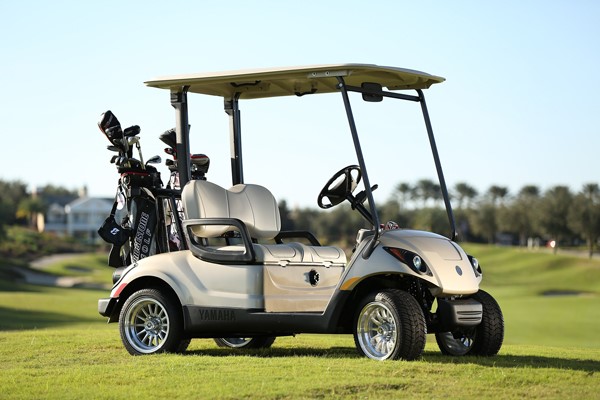 Are trade-ins accepted?
Harris Golf Cars will evaluate the value of your trade-in vehicle and make an offer against a new or used golf car. Call us or stop by to learn more.
Do you do quotes for custom cars?
Custom golf cars are a specialty of Harris. Check out our Inventory, or request a quote and a dealer will get back to you.
Is delivery available?
Harris Golf Cars can deliver a vehicle to a location near you. Our delivery service is available to individual customers in our Illinois, Iowa, Nebraska and Wisconsin territories.
Do you Service Golf Cars?
What is your warranty policy?
New Yamaha golf cars come with the Yamaha 4 year factory warranty. Late model used golf cars are backed by a Harris 2 year warranty. We stand behind our vehicles and our service department's inspections.
Do you rent golf cars for events?
Golf Car Rentals have long been a part of the Harris Golf Cars business. We can tailor a rental quote to fit your event or business needs. Request a rental quote today!

Hours
M-F: 8 am-5 pm
SAT: By Appointment

Hours
M-F: 8 am-5 pm
SAT: By Appointment

Hours
M-F: 8 am-5 pm
SAT: By Appointment

Hours
M-F: 8 am-5 pm
SAT: By Appointment
Our parts department is dedicated to the needs of our customers. Our inventory is one of the largest in the United States. Our mechanic staff includes some of the best technicians ever to service all brands of golf cars.
We offer a huge inventory of Genuine Yamaha golf car parts and accessories and stock a lot of Club Car, Ez-Go and Columbia/Harley Davidson parts. We ship parts worldwide everyday. We offer a full line of accessories for your car, providing every possible accessory you would need.