Current Hours of Operation:
Dubuque, IA: Store hours are Monday–Friday from 8 AM–5 PM and Saturday by appointment only. Curbside parts pick-up is also still available if preferred.
Sturtevant, WI: Store hours are Monday–Friday from 8 AM–5 PM and Saturday by appointment only. We are now at our NEW Sturtevant, WI location at 14003 Leetsbir Road (across the street and down from the old building).
Sugar Grove, IL: MASKS REQUIRED! Store hours are Monday–Friday from 8 AM–5 PM. As of September 7, 2021, the governor of Illinois has mandated the requirement of masks for all public indoor setting, schools, health care settings and bars, restaurants, grocery stores, gyms and in common areas of multi-residential buildings. The requirement is for vaccinated as well as non-vaccinated individuals. There has been an increase in cases across the state of Illinois and it is felt that to help protect our employees and customers in Illinois. Employees and customers must wear masks until further notice.
_____________________________
A MESSAGE FROM HARRIS GOLF CARS REGARDING COVID-19:
Harris Golf Cars wants you to know we are vigilantly implementing enhanced protocols to ensure your safety when visiting our dealership. Every day, we closely monitor and analyze developments and statements from health agencies, and we are taking actions to comply with their directives which are based on facts and medical science. This includes actively practicing social distancing while customers drop off and pick up their vehicles and reinforcing training procedures to ensure cleaning processes are implemented properly by our employees. 
If you do not feel comfortable visiting our dealership for your service needs, we can also pick up your vehicle and return it for service. Please call (563-582-7390) with any service questions or to schedule a service appointment. You can also schedule a service appointment online by location with our service request forms. Thank you!
Scott Harris, President of Harris Golf Cars
INTRODUCING THE ONE THING YOU NEVER HEARD COMING

Ours is the first gas-powered car in the industry to offer independent rear suspension, for the most comfortable drive around, no matter the terrain. And at an efficient 45 MPG and 76% fewer pollutants, there's no doubt this car is the most sound decision for your course.
GAS, THE QUIET CHOICE FOR A SOUND 
BUSINESS DECISION
 Yamaha exclusive QuieTech technology
 Independent Rear Suspension
 Up to 23% better gas mileage at 45 MPG*
 Yamaha-built engine
 Industry-leading fuel economy
 Fewest emissions and up to 76% less pollutants than competitors*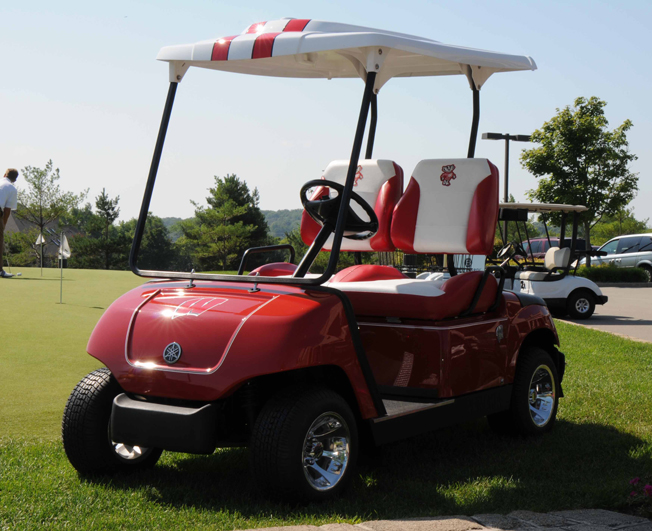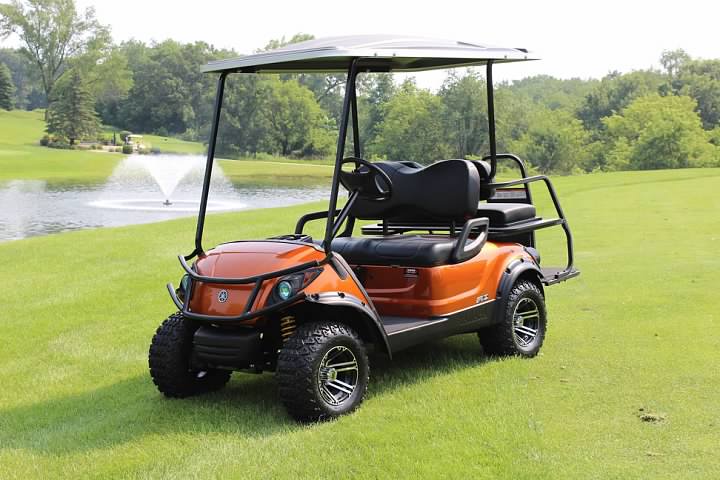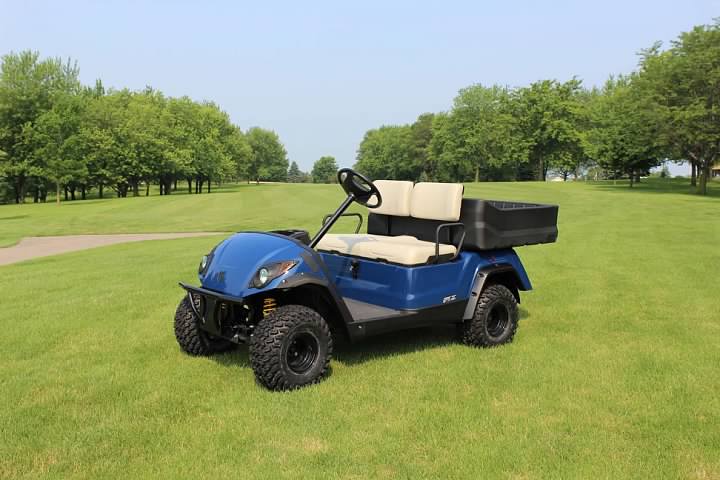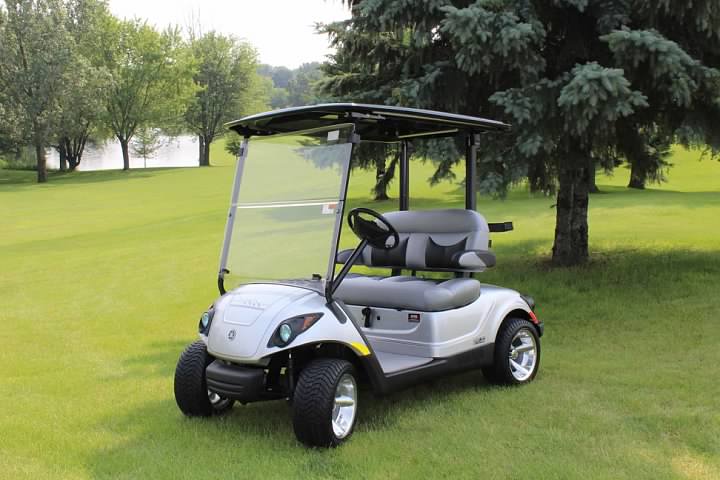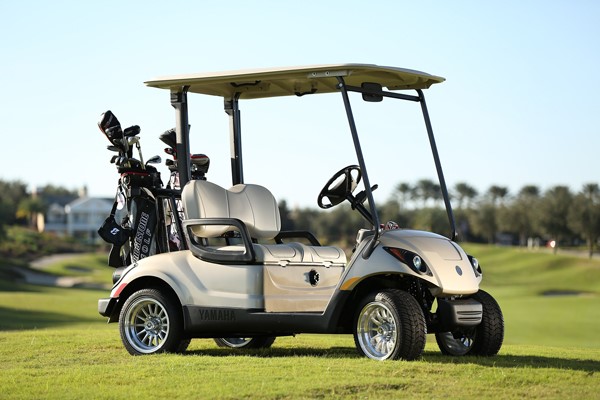 Are trade-ins accepted?
Harris Golf Cars will evaluate the value of your trade-in vehicle and make an offer against a new or used golf car. Call us or stop by to learn more.
Do you do quotes for custom cars?
Custom golf cars are a specialty of Harris. Check out our Inventory, or request a quote and a dealer will get back to you.
How do I find my golf car's serial number?
Is delivery available?
Harris Golf Cars can deliver a vehicle to a location near you. Our delivery service is available to individual customers in our Illinois, Iowa, Nebraska and Wisconsin territories.
Do you service golf cars?
How do I find out what model of Yamaha golf car I have?
The Yamaha model number appears on the golf car label and is useful to help identify the model when looking for Yamaha Parts & Accessories. Click here for a complete listing of Yamaha Model and Primary ID numbers.
What is your warranty policy?
New Yamaha golf cars come with the Yamaha 4 year factory warranty. Late model used golf cars are backed by a Harris 2 year warranty. We stand behind our vehicles and our service department's inspections.
Do you rent golf cars for events?
Golf Car Rentals have long been a part of the Harris Golf Cars business. We can tailor a rental quote to fit your event or business needs. Request a rental quote today!
Our Inventory is one of the largest in the USA.

Hours
M-F: 8 am-5 pm
Sat: By Appt Only


Hours
M-F: 8 am-5 pm
Sat: By Appt Only

Hours
M-F: 8 am-5 pm
Sat: By Appt Only
The Possibilities Are Endless...
Our parts department is dedicated to the needs of our customers. Our inventory is one of the largest in the United States. Our mechanic staff includes some of the best technicians ever to service all brands of golf cars.
We offer a huge inventory of Genuine Yamaha golf car parts and accessories and stock a lot of Club Car and Ez-Go parts. We ship parts worldwide everyday. We offer a full line of accessories for your car, providing every possible accessory you would need.